Ben Bowns - Offseason 2018
14th May 2018 | Posted by Chris
---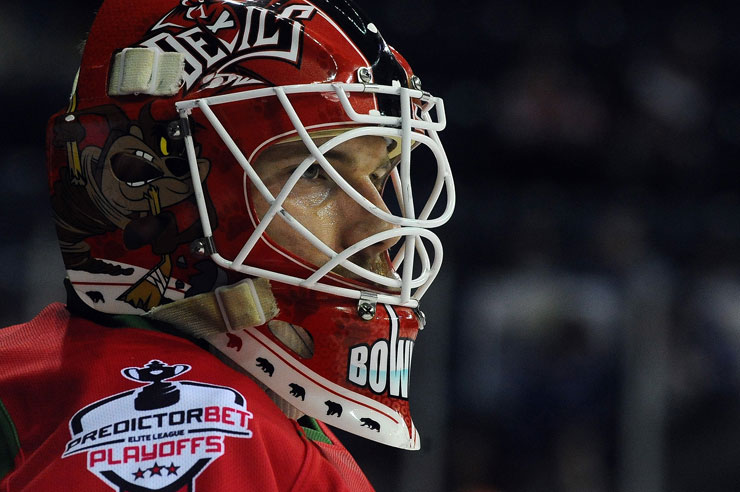 After the most successful season of his career, we sat down and spoke with Ben Bowns about the season just gone. On the back of league, conference and playoff final victories, Bowns added GB success that will see us facing the best countries in the world! Along with finding out who he could have signed for prior to joining the Devils and which upcoming netminders to keep an eye on...
The-Inferno - Firstly, welcome back Ben! It's been almost two years since we last spoke and it's fair to say the club has gone from strength to strength!
Ben Bowns - Thanks for sending me some questions again, I actually quite enjoy these interviews you guys send, there's usually some good questions compared to what we're used to! The club has took massive strides forwards over my 4 years here. It was set up as the best club in just it's first year anyway so after 4 years it now completely blows every other EIHL club out of the water in terms of set up, professionalism and the way it looks after it's players.
The-Inferno - We've spoken to Jamie Elson and Luke Piggott about what it was like on the bench, but how was it to be on the ice counting down the last few seconds to the playoff victory?
Ben Bowns - It was pretty cool, you can never describe those moments or seconds to be honest. I genuinely can't remember much about the final few minutes because they're all a big blur, apart from seeing Mo score and then going to the bench and celebrating with Richie. I imagine it was less nerve racking for me compared to Jamie & Pigman because when you're on the ice, you're in control of what's happening and because of that I don't think it's ever as bad when you're on the ice in those situations compared to when you're not on the ice.
The-Inferno - Aaand, back to back league champions! Did you ever imagine that you would be here with a haul of trophies when you first signed for the Devils?
Ben Bowns - Actually yeah! The Devils always had a special place in my heart. It was between Braehead and Cardiff when I first signed, Braehead for more money too but I was drawn to Cardiff and when I imagined playing for Cardiff it just felt right. They say that you always know with certain things and I just always had that feeling that playing for Cardiff would turn out great. But I suppose I never truly imagined it being as great as it has been.
The-Inferno - And just to make things even sweeter, what an amazing victory for the GB team! Just how awesome was that to be part of?
Ben Bowns - I know some Devils fans might not like to see this but, as amazing as each championship we've won has been, the gold medal in Budapest this year completely eclipsed everything. It's my biggest achievement by far and I don't know if anything will ever top that. Winning championships is always amazing but to do it at the level, with that group of guys and for my country was just indescribable.
The-Inferno - Are there any teams that you're particularly looking forward to facing when playing with GB now? There are some great teams we're going to face!
Ben Bowns - All of them! But obviously you want to play against the big guys. So Canada, USA, Sweden, Russia & Finland would be awesome to play against. People should realise though that we have a legitimate chance of staying up and winning a few games. That will mean playing 100% for 60 mins at an amazingly hard pace, but it's something that this GB team is more than capable of! Plus we won't have 15 imports (or however many it was) like the last GB team that played at that level did which makes it way more special and I think gives us a better chance at staying up than that team ever had. You can never beat the effort, passion, determination or intensity of a Brit playing for Great Britain
The-Inferno - Now we've had one season of the U23 rule being in place for the EIHL, what do you make of it?
Ben Bowns - I don't really know what to make of it if I'm honest. I think it's the right idea but isn't executed correctly. There's no development line for u23s to come through and apart from a select few, the majority of the u23s that played last year were already in the league anyway. A lot of teams had them sat on the bench too which kind of contradicts the whole idea of it anyway.
The problem that the EIHL has with young Brits is that there isn't any set pathway to the Elite League and now the EPL has folded the gap is absolutely massive. Plus the NIHL clubs & junior clubs (with players that aren't NIHL yet) seem to regularly put their stars on a pedestal and it results in these prospects not knowing how to push themselves out of their comfort zone like they need to do in order to improve any further. Some of them may stay in the lower league for a bit of extra money (understandable) but they'll never take that leap and risk that could see them become a top Brit at some point. Until some kind of pathway is set up for every team in the EIHL to help guide these players up to the standard and level they need to be at. BUT that means all the leagues in this country have to work together and that's a lot easier said than done.
The-Inferno - And to follow on, with the collapse of the EPL there's now an even bigger gap for younger players to jump across. Do you see a way forward for players coming through at the moment?
Ben Bowns - One change that I do think the EIHL could make to help majorly boost development of young brits is to make the playoffs into the main championship and have a proper set of series that are a 'Best Of 5 or 7' series rather than the aggregate score we use now. This would allow coaches to use these younger players more in the league season and give them game time. Right now 54 games out of 54 games are "must win" games so how can you expect a coach to play a young guy regularly? It's just not going to happen because they're job is to win those games and they can't risk a young Brit costing their team, which will happen because they're young and inexperienced, that's just natural. If that pressure to win isn't there and is just to make the playoff cut as high as possible then playing a young Brit becomes a much reduced risk, in my opinion.

Until something like that happens then it's going to be extremely difficult for these young prospects to break through, hard for coaches to develop these players and give them game time.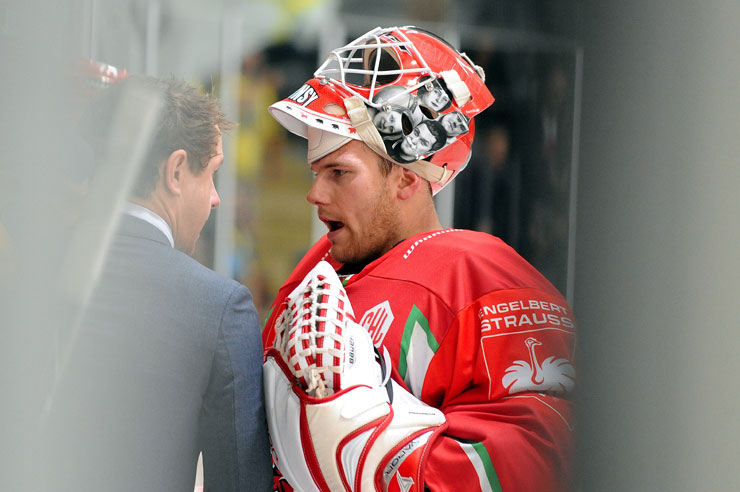 The-Inferno - Which upcoming backup / junior has caught your eye as one to watch coming up through the ranks? Are there many prospects for the next generation of net minders coming through?
Ben Bowns - There's a few prospects, especially in Cardiff that have potential. Obviously our fans know of Jordan Lawday now. He's a good young netminder, lacks size but competes extremely hard and is constantly wanting to learn which is great. I think seeing how the EIHL players operate has opened his eyes and he's realised that even though he works hard, he has to work much, much harder if he's to get up to the level required and that's something I'm sure he will do.

Another prospect is a goalie in the junior system called Ben Scanlan. Myself, Mad Dog & Dan Brabon work with him every week on the goalie session we run. He's got a lot of potential, he has good size and as a whole, he does compete hard. If he starts working out, becomes stronger, more powerful and matures as a person then he could potentially be a starter in the EIHL within the next 5 - 8 years. The problem for Ben is that 5 - 8 years is a long time and he has to remain focussed on and remember exactly what his end goal is.
The-Inferno - Whilst it's awesome having such a competent back up in Murdy, do you think he'll be making the step up to a starting NM position soon?
Ben Bowns - I would love nothing more than to see Murdy as a starter in this league. He's the best goalie partner anyone could ask for and he's the best team mate I've ever had so to see him starting for a team would be amazing. Murdy has one problem though...he's British! I genuinely believe that if he had a different flag next to his name then he would have been a starter in this league for a few years already. He's still the best skating goalie in this league and last year we had some amazing goalies in the EIHL. So, yes I'd love him to start at a club somewhere.
The-Inferno - We had two new teams join the league this season in Milton Keynes Lightning and Guildford Flames. How did you find playing against them?
Ben Bowns - I thought they were great and loved playing their differing styles equally. Both teams were different and could hurt you in so many different ways. They strengthened the league no doubt.
The-Inferno - The EIHL seems to be going from strength to strength, with the exception of the Capitals, but do you find that to be the case on the ice as well?
Ben Bowns - Yes 100%, the standard of this league is better than the UK has ever seen before. Now, I know some people will disagree because they love to live back in the glory days of the Superleague, but, the players now are better athletes. The speed is faster, the skill level is way higher than those days and the execution of plays and hockey IQ is up compared to those days too. Don't get me wrong, there were some great players in the superleague and some legends of the British game, but both eras are completely different. If you want more fighting and 6-10 goals a game then the superleague is your cup of tea but if you prefer speed, skill, athleticism and professionalism then the EIHL is what you want.

I was talking to someone a few days ago who has been around all the top European leagues and it was interesting when they compared the EIHL level to the standard of the DEL but slower. I think that should show just how far the league has come.
The-Inferno - We came oh so close to winning every trophy on offer this season just gone, how much does that spur players on for the following season?
Ben Bowns - It plays a small part yeah, but last years team was completely different to the previous team. We looked forward one game at a time and took each game with the same approach.

I think the main motivator this year was to prove doubters wrong if I'm being honest and just do it for each other, for me personally that was definitely a factor in my season. I've never been part of or known of a sporting club to have such a negative vibe around it when there's a winning product on the ice in front of them as we did this year! Our club is full of great fans but some people took things too far last season, but, in a way, I think it helped pull everyone in our room together.

We as players do expect criticism when we don't perform, as does any sporting professional, it comes with any job like that. But there has to be a limit somewhere. You might think I'm being a bit pathetic with this but after a loss this year, myself and my fiancé were verbally abused outside the rink and basically told we weren't wanted in Cardiff anymore as we walked to my car. Now at this point even if a player is by themselves that shouldn't be happening, no player goes out with the intention of losing or playing bad but at some point it will happen. But for people to abuse family members who have absolutely nothing to do with what just happened on the ice is bang out of order. It did get to me at the time, mainly because it upset my fiancé but I managed to turn it around with the aim to prove that fan wrong and really show them how wrong they were.

So maybe it had a silver lining really. I never really shared this with many people but now the season is done, I think it's ok to talk about it. We have some great fans here, really great fans, the first two years I played here were amazing and you guys are what made me want to come back but when that kind of thing happens it makes you think twice about your decisions.

All the players and their families give up their lives and relocate to come to Cardiff and represent you guys and try to entertain you every week, so I would ask that the small minority of people that the above is about, think about it in the future as that type of thing is what will push great players away from a club.
The-Inferno - What did you make of the CHL teams that we played last year? It turns out that we ended up in a group with some of the final teams left in the competition and still grabbed a couple of wins!
Ben Bowns - I thought they were all great! They were all major fun to play against and I just love playing against the style of hockey that Vaxjo & Liberec played. Those styles are so fast and fluent that you can't help but love being involved and flying around to keep up with it.
The-Inferno - We've announced that Mark Richardson is returning next season, can you give us an idea of what it's like playing behind one of the best GB players?
Ben Bowns - What can you say about Richie that hasn't already been said. He's an amazing defence man. In my opinion not just the best Brit D-man but one of the best D-men in the league. He does everything. I am 100% certain he'll still be playing in 10 years and if he is, I hope the club gives him a second testimonial!!

Probably the best compliment I can give him is that Richie isn't just a great player, he's team mate, a great person, has a great family and I'm lucky to call him a great friend.
The-Inferno - Thanks for taking the time to speak to us, is there anything that we've missed or that you'd like to add?
Ben Bowns - It's been an amazing 4 years here but this last one was the most special by far, so thanks to all my team mates and the staff for making last year so special and fun! Thanks to all you guys who pack IAW out every game, it's always an honour to pull on that Devils jersey!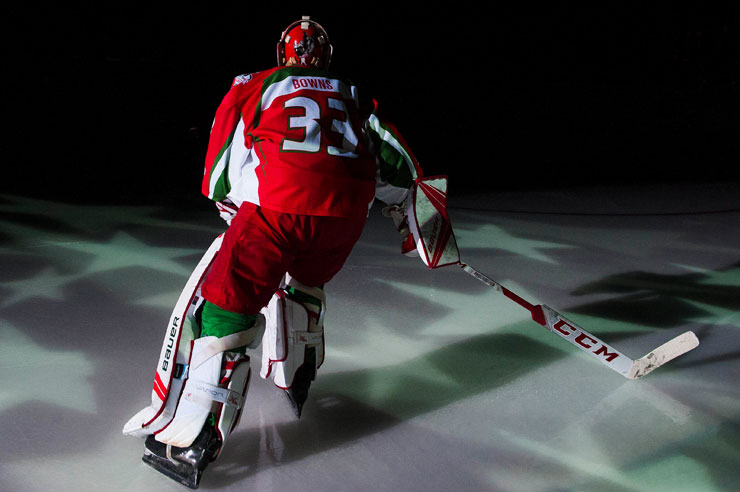 Photos thanks to
@DaiLight91
-
bridgendphotographer.co.uk
---
« Back to News