Joey Martin - Offseason Interview 2015
6th May 2015 | Posted by The Inferno
---
Joey Martin is the first Devil to be signed for the 15-16 season (other than Coach Lord) so he's first up for another round of questions. Martin was the Devils top points scorer last year with 84 points for 64 games, an impressive tally, so it's easy to see why he'd top Lords list for the coming year. We caught up with Joey to ask him about his thoughts of the season gone and plans for the upcoming season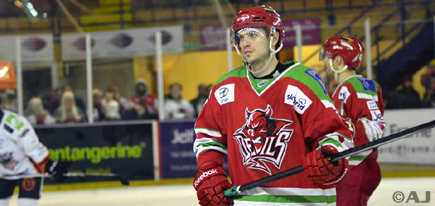 The-Inferno - Most important question first... What was the deciding factor on re-signing for the Devils for the 15/16 season?
Joey Martin - There are many factors that contributed to my decision to return to Cardiff. The city is Beautiful and such a great place to live. The people in Cardiff are very nice and welcoming, and it has the best fan base I've ever played for. The way we as players are treated is everything you could hope for when joining a team. Then the opportunity to be able to play hockey while completing my MBA is a perfect situation.
The-Inferno - You formed a great line with Mo and Andrew, is that something you want to continue this season if Mo returns.
Joey Martin - I think one of the reasons our line was successful last season is the three of us were all on the same page as far as how we approached each game. We worked hard and took pride in both ends of the ice. We wanted to score goals, but we were just as focused to not allow goals while we were on the ice.
The-Inferno - With last season being Andrew Lords first as coach and also as your line mate, how did you find that as a player?
Joey Martin - That was the first time I have ever played on a team with a player coach. I remember the first few practices, Andrew would be participating in a drill and still managed to blow his whistle to initiate the next players in line to start. I thought that was very impressive. Focusing on your own game while running a practice and being in control of every guy on the ice is not easy, but he did an exceptional job.
The-Inferno - First season done and dusted, what are your thoughts on the EIHL now? Did it live up to what you were expecting?
Joey Martin - I think the EIHL is a good hockey league that seems to be getting more and more competitive each year. There are some nice arenas and awesome fan bases throughout the league which I think becomes appealing for hockey players. The league has a lot of skill, speed, and is pretty physical for a league with Olympic size ice.
The-Inferno - What were your first thoughts when you saw the Big Blue Tent (BBT) from the outside?
Joey Martin - When we first pulled up to the BBT, I honestly didn't know what to think. Before coming to Cardiff, I was told by many of buddies who have played overseas that things were a lot different than North America. Therefore I came over with a pretty open mind, but seeing the BBT from the outside definitely caught me off guard!
The-Inferno - And then how did that differ to when you played there, with a sold out crowd and the atmosphere absolutely rocking?
Joey Martin - After playing in the BBT my mindset changed tenfold. The atmosphere during our games is unlike anything I've ever played in front of before. I loved playing home games and hearing our fans yell and cheer after a goal or big hit. It is definitely a very hostile environment for opposing teams to play in.
The-Inferno - Red Army Travel have got out fans turning up in coachloads for away trips, how much difference does it make having that sort of following?
Joey Martin - As I've said before, our fans are amazing. They truly are the best fans I have played for. No matter where we play, theres always Devils fans in the stands cheering and supporting us. It makes a huge difference on days where we have a long travel to Hull, maybe we feel a bit sluggish, and we come out to the ice to see the Devils fans who made the trip. It's extra motivation for us and means so much to have that support.
The-Inferno - We won the Challenge Cup for the first time in almost 10 years and came close to the other trophies, what was the best moment of the season for you?
Joey Martin - I would definitely have to say winning the challenge cup. That was a very special moment. We had such a great group of guys on our team, and to be able to win a trophy with that group is something that we will always remember. Also the amount of fans who came to that game and were able to celebrate with us was amazing. Definitely one of the best memories of my career.
The-Inferno - You've experienced everything the league has to offer rink wise, from sold out arenas to brick and concrete boards in Edinburgh... What have been your favourite and least favourite places to play?
Joey Martin - The away arenas that I enjoyed playing at the most have to be Belfast and Sheffield. They have nice, new arenas that resemble most of the pro rinks in North America. My least favorite arena would have to be Hull. I think it's the combination of the long bus ride, and their dark arena that I dislike.
The-Inferno - How have you found living in Cardiff the past year? How does it compare to previous places you've played in?
Joey Martin - I really enjoyed living in Cardiff. It's definitely one of, if not the best city I've played in. There's so many great places to eat, lots of pubs, great shopping area. My love for the city was a big factor in coming back!
The-Inferno - Is there an area you want to improve on form last season?
Joey Martin - After every season you always take time off to reflect and think about how your season went personally and what things I can do this summer to be better. I've spoken with Andrew about areas I can improve on and focus on this summer. To list a couple, I would like to improve my face offs, and practicing a quicker release when shooting the puck.

The-Inferno - League or Playoffs?
Joey Martin - Wasn't quite sure what this question meant. If you're asking which would I rather win? I would say both.

The-Inferno - Any parts of the Wales or UK you have yet to discover in off time?
Joey Martin - In the past year, during the season and during a non hockey vacation last summer, I was able to visit a lot of different places throughout the UK. At the end of the year, my girlfriend and I did some traveling around Wales. We climbed the Pen y Fan peak in Brecon Beacons, visited Rhossilli Bay, the mumbles beaches, and of course various castles. Wales is a beautiful place and I'm looking forward to exploring more next year.

The-Inferno - Thanks for your time again, is there anything you'd like to add?
Joey Martin - I'm very happy and excited to return next season and be a Cardiff Devil for another year. I would like to once again thank everybody for the kind messages on social media following to announcement of my signing. As if my decision to return wasn't solidified already, the warm welcome back messages reassured me that I've made the right decision!
---
« Back to News