Red Army Travel Triple Header
1st Dec 2015 | Posted by The Inferno
---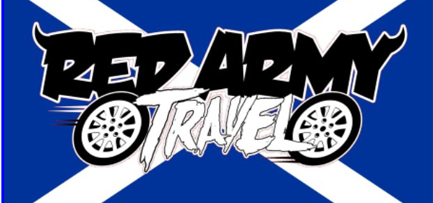 Only a couple of days before the big away weekend of the season starts. Here's all the details you need for the trip.
You will be staying at:
Jurys Inn Hotel
43 Jeffery Street
Edinburgh
EH1 1DH
Pick Up Times and Itinerary

Thursday:
Bus Pickups: 7:00 - Bay; 7:45 - Llanishen; 8:30 - Coldra
Friday
Day in Edinburgh. Bus Pickup: 17.30 from the Hotel to Murrayfield
Saturday
Bus Pickup: 12:30 from Hotel to Braehead. Spend the day at the Braehead Shopping Complex and Intu Braehead
Sunday
Bus Pickup: 14:30 from Hotel to Dundee. There is a Pub, KFC, McDonalds and plenty more within walking distance.
Monday
Bus Pickup: 9:30 from Hotel for the Voyage Home
If you are not on the bus at any of these times we will assume you are making your own way to the rinks or hotel. Please be on time.

Useful Numbers
Dominos Pizza - 0131 667 8666
0131 667 8666
Dinos Chippy & Kebab - 0131 659 5444
Tikka Masala Indian - 0131 668 1412
Taco Mazama Mexican - 0131 629 1892
0131 629 1892
Taxi- 0131 229 2468 / 0131 228 1211

A note from the Inferno
Jon, Gerald and the guys from Red Army Travel put a hell of a lot of work into these trips. Whereas they will help out when needed, they aren't tour guides, or your mothers. Please don't overburden them as they will have enough stress ensuring things go smoothly. Have fun and don't forget to bring back the 6 points.

---
« Back to News