The Inferno Interview Steve King
15th Jun 2016 | Posted by The Inferno
---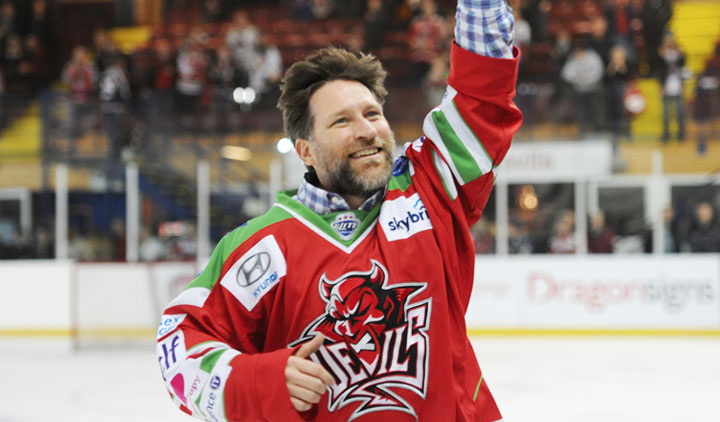 It's been a while since The Inferno has run any interviews so, with the new season tantalizingly close yet still so far away we decided to kick off a new series of interviews from the top with the de facto spokesman of the Devils Ownership group Steve King. Steve has always been very supportive of the Inferno since taking control of the Devils, and even takes part in the occasional topic over on the forum, so when we asked for a quick interview there was no hesitation.

The-Inferno - Thanks for taking the time to sit down with us again, it's been a pretty wild couple of seasons so far! What's been the most surprising thing for you (and maybe the other owners) since taking over?

Steve King - My pleasure. I've always got time for people that share my 365 day a year passion for the Devils! The biggest surprise for me has been the passion and knowledge level of the Devil's core fan base. Hockey is a niche sport in the UK but the people that do follow it are as engaged as any hockey fans out there. I love following Inferno poster's signing suggestions in the "Rumours" thread and marvel at the work that goes into some of the posts.


The-Inferno - Have you been surprised by the fans reaction to you and the other guys coming in, did you have any idea what you were letting yourselves in for?

Steve King - We really had no idea and have been blown away by the reaction. We often talk amongst ourselves that it feels awkward to be treated so nicely given that we don't feel like we've done a huge amount at this point. It's been extremely appreciated.


The-Inferno - What was the experience like turning up to the sold out BBT for your first EIHL games? When we spoke to you last year you'd only been to see a rec game.

Steve King - I have to admit that I'll miss the BBT but really, an arena is mostly made up of the people inside of it, not the building itself. I know that the IAW will be filled with those same crazy Devils fans and we'll continue to make Cardiff the most difficult place to play for other teams. We need the new fans that couldn't get into the BBT to come out and fill the IAW with the same chants and drumming and cheering that we've become known for.


The-Inferno - We've finally made it into IAW and it's not been a bad start with 3 sellouts straight away! How much of a relief was it when we finally moved in?

Steve King - It was a huge relief. Financially, we would not have been able to ice the team that we did last year (or that we plan to this year) had we been playing in the BBT. So while the delays in getting into the IAW made the year difficult financially, we are now in a strong position to move the club forward as well as doing some of the charitable efforts in the community that we've been wanting to do.


The-Inferno - Is there any further update on the proposals to purchase the arena? Or is it a case that now we're in there you'll give it a season or so to see how things progress?

Steve King - We are still very interested in owning the arena if the situation works for both sides. I do believe that it would benefit all of the parties involved – from the current owners, the city of Cardiff and the fans of the Devils. Whenever something benefits everybody, a transaction will usually happen.


The-Inferno - Last season you and some of the other guys came over for the Challenge Cup, where did that victory in Sheffield rate compared to other sporting events you've been to?

Steve King - Not just one of the best sporting events that I've been to but also one of the most memorable nights of my life. To be able to share that victory with Devils fans that had not had the taste of victory in so long was absolutely incredible. We need more of those moments!


The-Inferno - You've been on the triple header and other away trips with Red Army Travel, have you managed to recover yet?

Steve King - I actually haven't had a chance to do a triple header trip yet but it's officially on my bucket list! My other trips with RAT have been fantastic. Flying for nine hours, with a seven hour time change and a group of friends that don't let me rest (or stop drinking) is a tough recipe for a weekend but those are problems that I'll take any time. Not a lot of people feeling sorry for me on that one!


The-Inferno - And how do the fans go about getting some of those Budweiser hats?

Steve King - Believe it or not, I did speak to a friend of mine who works in the hospitality industry about getting a large order of those hats but I haven't gotten anywhere on it yet!


The-Inferno - We won the Challenge Cup last season and came close to the other prizes this season! What are the expectations from you and the other owners for the upcoming season?

Steve King - We were all very disappointed with the end of last season, only coming up with the Conference title. We all felt that we had the team to win at least two more trophies and we worked so hard to put ourselves in a great position with just a few games left for the league title. A lot of variables came in to thwart our goals so we're in a position where the whole team and staff are very hungry to improve and redeem ourselves. Winning as many of the titles as possible is our only goal so one out of four was not enough.


The-Inferno - We've gone from an average crowd of around 1300 the season prior to the club changing hands to over 2000 last season. Did you honestly expect such a turnaround when you bought the club?

Steve King - I actually did. After seeing the job that Todd had done in Belfast and also hearing about the history and passion that has existed in Cardiff for the last 30 years, I fully expected to get people back to the rink by giving them a great product on the ice. I firmly believe that hockey is the most entertaining sport in the world to watch live. I also believe that we give excellent value for the money compared to other sports. Combine that with our goal of treating everyone within the organization from fans, staff and players with class and respect and I believe that people will always respond to that. I also have a problem with always being overly optimistic so that contributed as well!


The-Inferno - We've gone from playing Coventry each and every offseason to playing KHL team Medvescak Zagreb, AND Oberliga champions Tilberg Trappers AND HC Banska Bystrica! Are you going to make it over for these games and how much is it a statement of intent for the next campaign?

Steve King - Unfortunately I won't be able to make it out to those games. That's right when both of my son's hockey tryouts are here in Calgary so it's a tough time of the year to travel. All four of us are looking at the middle of October for our first trip out this year. My Mom and Dad (who is turning 80 in August) are planning a trip to the UK in October so I've convinced them to come to Cardiff for a weekend to catch a home fixture. I can't wait to introduce them to the Devil experience!


The-Inferno - How involved do you and the other owners get with the signings? We saw the link when Russell arrived last season, but is that an exception rather than the rule?

Steve King - We've been much more involved this year but not just in providing potential names but also in talking to prospective Devils directly. We believe that we offer something very unique to a player in the way that they'll be treated while they're playing but also in their transition to life after hockey as well so Todd and Lordo have asked us to talk directly to players and let them know all of the benefits of joining our family. It's been a lot of fun to get more involved and get to know some of these players personally – some of whom will join us this year, some we are targeting for further down the road. Anything we can do to help out the recruiting is absolutely fine by us.


The-Inferno - Thanks for taking the time to sit down with us again, is there anything we've missed or you'd like to add?

Steve King - As always, I'd just like to add a huge thank you to all of our fans. Sometimes teams forget that the numbers on the financials are actually people that make decisions every day as to what things that they are going to put their time, passion and money towards. None of what we're doing is possible without all of you continuing to make the decision to support the Devils. I can also tell you that I'm very excited with the options that we have on the table for our last few signings. We'll be putting our best foot forward this year and while sport is always unpredictable, we certainly won't have left any stone unturned when putting our opening lineup in place. Now let's get to the hockey season already!
---
« Back to News